---
What's New (site last updated on 8/26/14):
New Flash Novel Available Now: We are proud to announce the official release of Alan Bray's The Puppet's Tattered Clothes, available now in print and e-book. You can also order copies of our other acclaimed flash novel titles by visiting our Flash Novel store.


New Website Design in Progress: Welcome to the brand new Bartleby Snopes website. Please be patient while we convert all of the pages to the new look.


Final August Stories Available Now: We conclude this month with new fiction from Adelaide B. Shaw and Maria Pinto. Head to the newly redesigned Current Stories page to read our latest and to vote for the Story of the Month. Voting closes at the end of the day on September 2nd.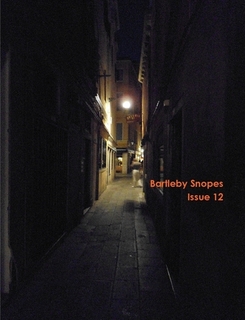 Issue 12 Available Now: The 12th Issue of our semi-annual magazine is now available in e-book and print. This fantastic issue features stories and artwork from 27 contributors. Get your copy of this issue and all our previous issues by visiting our Magazine page.
6th Annual Dialogue Contest Now Open: Our Dialogue Only Writing Contest is back and better than ever. Our prize purse is currently over $1000 and continues to go up. The contest will be open from June 1st until September 15th. As always, you can submit unlimited entries. Unlike most writing contests, you don't have to wait for months and months to find out if you are a finalist. Check out our Contest page for complete information, including dialogue writing tips and past winners.


July Story of the Month Results: Congratulations to first-time contributor Dan Reiter for earning the July Story of the Month honors with his story Synchronic Conversations: a Tragedy in Triptych. Head to the Story of the Month page to see the special artwork we created for this month's winner and for more details about the contest.










If you like what we do here, please consider a donation. Donations help improve the magazine and support contributors.





All work that appears on this web site &copy the Authors.

Search the Bartleby Snopes site for your favorite story or author: